2016 Departure
Lake and Mountain Trek:
1,998.00 USD/person (02-05 person group)
1,585.00 USD/person (06-09 person group)
1,460.00 USD/person (10-12 person group)
Departing: May25, June01, June20, July01, July20, Aug01, Aug20, Sept01, Sept20, Oct10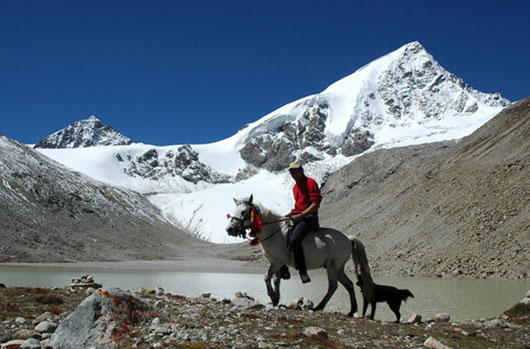 Introduction: A spectacular 5 day trek that gets you out of Lhasa and quickly into some of the most spectacular trekking terrain you will ever see. Starting at the famous Lake Namtso we camp away from the normal tourist site, sharing our camp with nomads and yaks. We explore the pilgrimage site of Tashi Dor before driving back through the Nyenchen Thanglha range, over the Sugu La and close to the base of Chomokangar, a stunning peak just short of 7000m. We then spend the nest 3 days exploring the incredible alpine environment and views. If you only have a short amount of time and you want to get amongst glaciers, alpine lakes, yaks and pikas and experience camping out near yak herders piques your interest, this trip is a perfect choice.
Click here for Wind Horse Service details
Click here for detailed itinerary
Day 01: Lhasa arrival
Day 02: Lhasa sightseeing
Day 03 Lhasa sightseeing
Day 04: Lhasa to Namtso Lake (4 hrs driving, 1-2 hrs hiking; Camp 4700m)
Day 05: Trek around Namtso Lake
Day 06: Namtso & Chomokangsar BC. (4hrs drive, 2-3 hrs hiking: Camp 4800m)
Day 07: Chomokangar, trek around Dapla Valley. (4-7 hrs hiking: Camp 4800m)
Day 08: Chomokangar to Lhasa
Day 09: Transfer to Airport/train station for departure
Tsurpu Monastery to Yangpachen Trek (Semi-difficult level):
1,885.00 USD/person (02-05 person group)
1,495.00 USD/person (06-09 person group)
1,380.00 USD/person (10-12 person group)
Departs: June10, June30, July10, August10, Sept10, Oct20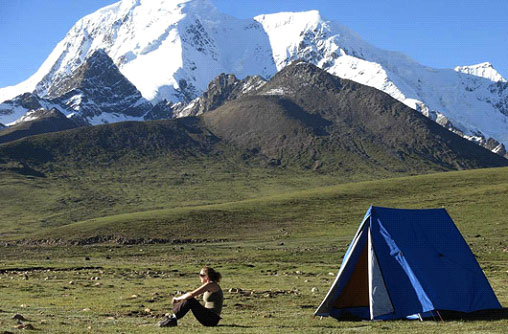 Introduction: The Tsurphu to Yangpachen trek is an excellent choice for those who want to get a close look at the Tibetan herders (drokpa) and their semi-nomadic lifestyle. Although they have permanent winter homes they spend much of the year camping with their animals. Beginning at Tsurphu Monastery this rugged walk crosses several alpine valleys before emerging into the broad and windswept Yangpachen valley. This is a high elevation trek exceeding 4400m for the entire duration and a maximum elevation of 5300m at the Lasar-la. Combining alpine tundra and sweeping mountain panoramas with visits to monasteries and a nunnery, this trek nicely balances cultural and wilderness activities.
Click here for Wind Horse Service details
Click here for detailed itinerary
Day 01: Lhasa arrival
Day 02: Lhasa sightseeing
Day 03 Lhasa sightseeing
Day 04: Lhasa to Tsurphu Monastery (altitude 4480m)
Day 05: Tsurphu Monastery to Leten 4800m (trek 5 hours, 5km)
Day 06: Leten to Bartso (trek 5-6 hours, 15km)
Day 07: Bartso to Dorje Ling Nunnery (trek 4 hours, 15km)
Day 08: Dorje Ling Nunnery to Yangpachen Monastery & Hot-spring to Lhasa (trek 4 hours, 14km)
Day 09: Leave Lhasa