Lhamo-Lhatso Pilgrimage Trek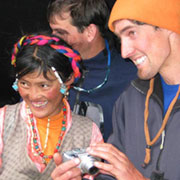 This fairly simple trek is unusual for tourists and traditionally very important for Tibetans. Lhamo La-tso is the soul-lake of Palden Lhamo, the protector deity for all of Tibet.
We spend the first few days in Lhasa as usual, then move to cradle of Tibetan civilization at Tsedang. We cross the Tsangpo to Samye monastery and on to meet our horses at Olkha. (please see Major Monasteries).Then we follow what was one of the main pilgrimage routes to Lhamo La-tso beginning from the heartland of Tibet and moving through high nomadic pastures for three days to arrive at the monastery of Chokorgyel. The next day we will climb to the spectacular vantage point from which high lamas would view the lake and seek visions regarding the future of Tibet.
Our vehicles will come around to meet us at the Chokorgyel camp and we will return to near our starting point to visit some little known early temples before returning for a night in Tsedang. It is an easy hour transfer to the airport for departure the next day.