Overland Nepal to Lhasa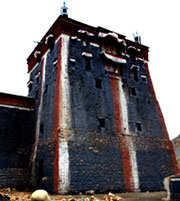 This is perhaps the most spectacular overland journey to make anywhere on this planet. Our journey begins deep in the Bhote Kosi gorge cutting into Nepal and climbs more than 10,000 feet (3,000m) through the Himalaya onto the Tibetan plateau. The feeling of cresting the 16,500 foot (5,000m) Lalung-la and crossing the Tingri plain with world's highest mountain behind you is impossible to describe. The fact that you are heading to Lhasa, the center of Tibet, only increases the excitement and awe.
After crossing the heights of the plateau we will visit the massive Sakya monastery, the seat for one of Tibetan Buddhism's four major schools (Nyingma, Kagyu, Sakya, and Geluk). This crucial monastery is almost ominous in its gigantic presence and is frequently bypassed in the rush to and from the border, but we think it should not be missed.
Shigatse is the biggest town in western Tibet and its grand Tashilhumpo monastery is the seat for the Panchen Rinpoche. We carry on directly to Lhasa on the 4th day so as to have plenty of time to visit the sites there (described in Major Monasteries). We will also be able to make a day excursion to Ganden monastery which sprawls upon a ridge-top above the Kyichu valley.
On the last day we will transfer the hour and half to Lhasa airport in time for flight departures.