Film Production Services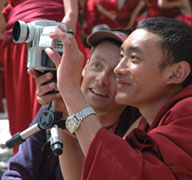 Film Production Services
Over the years we have worked with a wide range of film productions either provide all inclusive logistics and/or staff and basic logistics. Filming in Tibet is challenging but its not impossible and we can help you from the beginning by providing contacts to facilitate special permits all the way through to logistics and support.
The range of story opportunities and phenomenally spectacular and fascinating locations make Tibet a prime location for adventure and cultural film projects.
Productions we have facilitated include:
Into The Tsangpo Gorge: A Scott Lindgren Production for Outdoor life Network http://www.slproductions.tv/home.html
Blindsight: A gripping adventure of six Tibetan teenagers on their journey to climb a mountain in the shadow of Everest
http://www.blindsightthemovie.com/
Kayakers on the Roof of the World: An Independant documentary about Tibet Wind Horse Adventures' staff learning to be the first Tibetan kayakers. By Chris Jones and Sharyn Smith
Seven Weeks in Tibet: The story of the first full descent of the Parlung Tsangpo http://www.2at.com/content/view/36/56/
In 2008 we provided expedition support for Atlantic Productions Everest Expedition filming the story of Mallory and Irvine.