Wind Horse Adventure is the only company in Tibet with official permits to operate rafting and kayaking trips. We have employed international guides who work alongside our Tibetan guides to ensure a very high standard of safety, service and cultural experience. We also run a variety of trips that combine some of the striking cultural visits in our general catalogue with rafting and camping in areas of overwhelming beauty. We also have the ability to suggest, guide and handle logistics for first descents by experienced kayakers or rafters.
Safety and Experience
All our international guides are trained in wilderness first aid and river rescue. Our international rafting guides and safety kayakers have extensive experience running challenging whitewater expeditions in the Himalaya and elsewhere. Expert safety kayakers are used on every whitewater run. Chris Jones, our project manager has over fifteen years experience guiding, instructing, and managing rafting and other outdoor adventure operations around the world. All clients are provided with international standard safety equipment including a full wetsuit, helmet and buoyancy vest. We use state of the art rafts, kayaks and equipment.
When we design your itinerary we consider seasonal weather patterns, water levels and temperatures, altitude, accessibility, as well as surrounding scenery and cultural sites to ensure that you have the best possible experience on the water.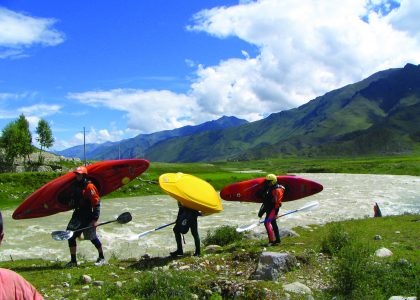 Kayaks on Mt.Everest
Lhasa to Kathmandu kayaking expedition
The ultimate kayaking experience. In June 2004, Chris Jones and friends pioneered this classic overland route with a twist. Kayaks are rarely seen this high in the mountains but there are a number of superb runs culminating in the Rong Chu, the river that drains the north face of Everest.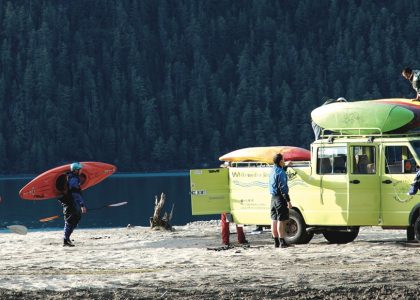 Rivers of Central Tibet
Rafting/Kayaking Expedition
Paddle and float across the high Tibetan plateau, experiencing Tibet as few tourists ever will. After four days acclimitising and experiencing the sites of Lhasa, we practice our paddling skills on the Tolung Chu before driving to the spectacular Nyenchen Thanglha range.
The Reting Tsangpo
This incredible river journey was first paddled by Wind Horse in 2005. We take a gear boat and say good-bye to the road for four days, carrying our supplies along with us.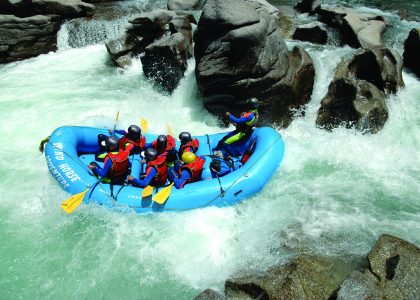 The Drigung Chu
The Drigung Chu is situated in an exquisite alpine valley about 2 hours from Lhasa. Continuous exciting class III rapids are interspersed with incredible granite gorges and challenging class IV rapids. The 2 day trip runs more whitewater and also includes a visit to the Tidrum Nunnery and hotsprings.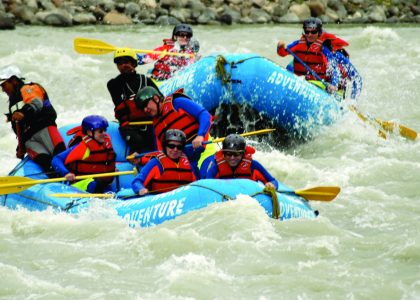 The Tolung Chu
The Tolung Chu is a fun whitewater adventure only 1 hour from Lhasa. It is a perfect introduction to whitewater rafting in Tibet. You do not have to be able to swim, but it is recommended that you are physically fit and have acclimatized in Lhasa for a few days as you will be required to paddle and move around the raft. This is our most popular trip for those that only have a short time in Lhasa