Kailash Circuit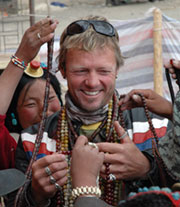 Mt. Kailash and its associated Lake Manasarovar could be considered the most sacred place on earth. This trip travels through the highlands of the Chang Tang,"Northern Plance",visits the haunting remains of the Guge kingdom, and then gives us time to circumambulate Mt. kailash before returning directly to the Nepal border.
After the usual time in Lhasa and the direct road to Shigatse we start west to the Chang Tang. This route goes through the vast and high grasslands where only nomads wander the empty spaces between road stops. After a brief stop in Ngari, the only real town of western Tibet, we continue to the center of the ancient Guge kindom. The citadel city of Tsaparang and monastery at Tholing were abandoned to the winds centuries ago but the haunting ruins remain visible amongst the sandstone canyons.
From here we move to Kailash itself and complete the circumambulation in accordance to pilgrimage practice established through countless centuries. A final visit to the equally sacred Lake Manasarovar will complete this awe-inspiring trip to the farthest reaches of the Tibetan plateau and its history. As we follow the beginnings of the great Brhamaputra, or Tsangpo, downstream it will be clear that this is truly the journey of a lifetime.