Nyingma and Kagyu Sacred Sites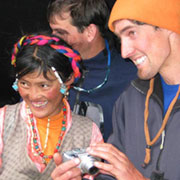 Another unusual itinerary that is as elegant as it is unique: the simple loop east from Lhasa takes us to more remote sacred areas and to the relatively low-lying, forested area of Kongpo. Then we turn south and back west to through the valley of the Tsangpo to Tsedang. Along the way we will see some of the most important sites for the older Nyingma and practice-oriented Kagyu schools, in contrast to the massive Gelukpa institutions of Lhasa.
The first days in will include visits to the important sites of Lhasa mentioned above (Major Monasteries).We will visit the impressive hilltop complex of Ganden before camping below the once-powerful Drigung Til monastery. This has now become an active retreat center for Kagyu practitioners and also runs the most important sky-burial site in Tibet. The nearby nunnery of Tidrum and its associated hot springs may be one of the most naturally powerful locations in Tibet. The complex is nestled at the base of soaring limestone cliffs in which Guru Rinpoche meditated for several years with his partner, the Tibetan princess Yeshe Tsogyal.
Our camping continues as we cross a pass and descend into the forested lands of Kongpo. The different clothing, architecture, and landscape of this area will be striking even to a first-time visitor. We will set our tents beside the jewel-like lake of Bagsum-tso, visit its tiny island temple and enjoy the forested alpine terrain. Another unusual stop will be at Buchu Lamaling, with a temple built as a model of Guru Rinpoche's copper-colored paradise.
As we move upstream along a remote stretch of the Tsangpo river the landscape will gradually turn more arid and rugged. We will find our way up to the precipitous and rarely visited monastery of Dagla Gampo, one of the first and most important monasteries for the Kagyu school of Tibetan Buddhism.
Finally we will cross the soaring Phodrang pass back to Tsedang and Central Tibet (and a hotel with hot showers!) The next day it is an easy transfer to the Lhasa airport.
Scheduled departures